رأس الحكمة مخافة الله vector style 2 – Thuluth Style
"رأس الحكمة مخافة الله" is an Arabic phrase that translates to "The beginning of wisdom is the fear of God." This profound saying highlights the belief that true wisdom and knowledge stem from a deep reverence and fear of God. The vector file available for download in EPS, CDR, and PNG formats features the phrase in Thuluth style, which is a classical Arabic calligraphic script known for its elegance and beauty. This artistic design can be utilized for various purposes, such as creating posters, artwork, or even personalized items, serving as a visual reminder of the importance of spiritual reverence in the pursuit of wisdom.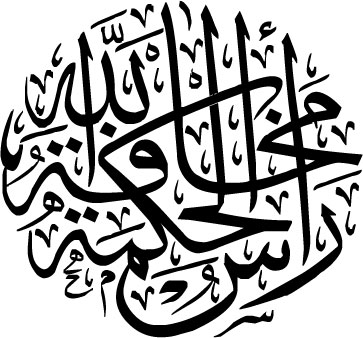 "رأس الحكمة مخافة الله" هو عبارة عربية تعني "أن رأس الحكمة هو مخافة الله". تبرز هذه العبارة العميقة الاعتقاد بأن الحكمة الحقيقية والمعرفة تنبع من تقديس الله وخشيته العميقة. يتوفر ملف الفيكتور للتنزيل بتنسيقات EPS و CDR و PNG ويتضمن العبارة بالخط الثلث الذي يعد أحد أنماط الخط العربي الكلاسيكي المعروف بأناقته وجماله. يمكن استخدام هذا التصميم الفني لأغراض مختلفة، مثل إنشاء الملصقات والأعمال الفنية، أو حتى العناصر الشخصية، ليكون تذكيرًا بصريًا بأهمية التقديس الروحي في سعينا نحو الحكمة.